New Delhi: A 19-year-old woman who was gang-raped and assaulted in Hathras of Uttar Pradesh, passes away at a hospital in Delhi, confirms her brother.
The woman was gang raped in Hathras on 14th September, 2020.
Hathras gang-rape victim was admitted at Safdarjung hospital for better healthcare facilities. She died today morning, said Safdarjung hospital official
According to the spokesperson of the hospital, the girl's legs have been completely paralysed while her arms have been temporarily paralysed. The girl was shifted to the national capital after her family members said that they wanted her to undergo treatment there.
All four attackers are in jail.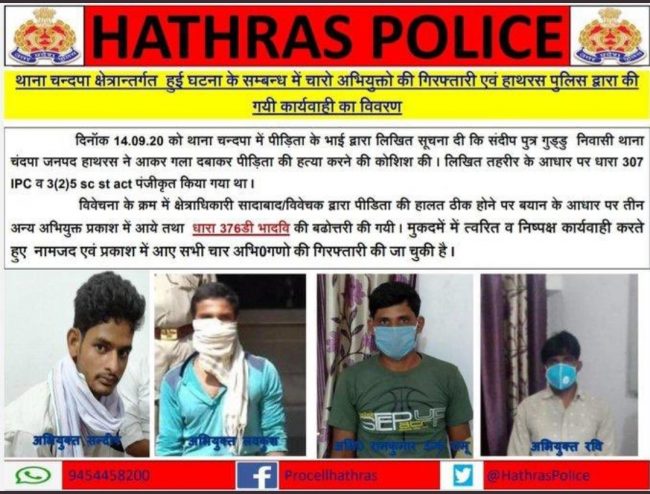 Hathras SP Vikrant Vir said, "We have registered a case under (IPC) sections of gangrape, attempt to murder and SC/ST Act. The accused persons are being interrogated. We have compiled all the evidence from the spot and are in the process of filing a charge sheet. We want the family to get justice and will be submitting all documents in fast-track court for immediate action. "
Congress General Secretary Priyanka Gandhi Vadra slammed Yogi Government for the incident.
Taking it to the Twitter, Priyanka Gandhi said that "Law and order in UP has deteriorated to a great extent. There is no name-mark for the safety of women. The criminals are committing open crime."
"The killers of this girl should be punished severely," she said.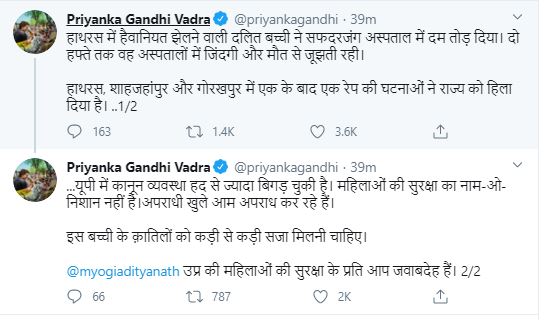 The post Uttar Pradesh: Hathras gang-rape victim dies in Delhi's Safdarjung hospital appeared first on NewsroomPost.
from NewsroomPost https://ift.tt/3icEdBl
https://ift.tt/2S9JQWc