Like every Diwali, Uttar Pradesh Chief Minister Yogi Adityanath took time off from his hectic schedule to visit Tinkonia village of Vantangias on Saturday with a renewed resolve to dovetail fruits of development to the last man of the society. It has become a ritual for CM Yogi to celebrate Diwali with Vantangia people, a community that was brought into the mainstream of society through his relentless efforts.
Recalling his days of struggle to improve the lot of Vantangias, the UP CM, while addressing a function here in Tinkonia village number three, said that the country was freed in 1947 but it took further 70 years for the Vantangias to get independence. He also remembered how it became his passion to get Vantagias rid of all their problems for which he had to go through a lot of rigour.
Announcing schemes for Vantangias worth Rs 65.77 lakh, he handed over sanction letters to ten beneficiaries of PM Awas Yojana, dry ration packets to ten beneficiaries of the Nutritional Food scheme, and distributed school uniforms and sweaters to ten children. His emotional connect with them was visible by his loving gestures towards children.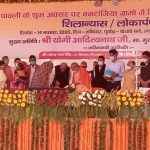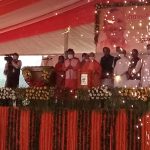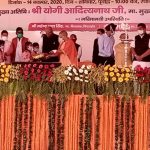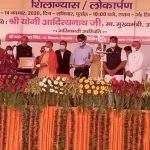 Asserting that his government never indulged in discrimination while giving benefits to the people, he said it has been an ordained duty of the officers and public representatives to ensure the benefits of welfare schemes reach the deprived persons in a speedy manner. Espousing the cause of 'Atmanirbharta (Self Reliance) ', he said even the Vantangia people may attain expertise in producing some unique material to become financially self-reliant.
निर्धनों के जीवन में खुशहाली लाना ही दीपावली की सार्थकता है।

"सबका साथ-सबका विकास-सबका विश्वास" के मंत्र पर चलते हुए हम विकास की योजनाओं का लाभ सभी को पहुंचाने हेतु दृढ़ संकल्पित हैं।

इस प्रक्रिया में क्रम आगे-पीछे हो सकता है किन्तु समाज का एक भी व्यक्ति इससे वंचित नहीं रहेगा। pic.twitter.com/0C3v2yMmF3

— Yogi Adityanath (@myogiadityanath) November 14, 2020
The Chief Minister also recalled how over 50,000 innocent children had succumbed to Japanese Encephalitis in East Uttar Pradesh from 1978 to 2017. "It was only after 2017 that the menacing JE could be contained through some proactive measures taken by my government. The situation is now such that the death figures due to JE this year is just 21 and it will be brought to naught by the next year, 'he claimed.
स्वाधीनता के 70 वर्षों तक विद्यालय दर्शन से भी वंचित रहने वाले वनटांगिया समुदाय के बच्चे आज सुव्यवस्थित ढंग से शिक्षा प्राप्त कर रहे हैं।

सदैव की भांति आज दीपावली के पावन अवसर पर वनटांगिया बच्चों को पुस्तकें, मिठाई आदि भेंट कर आत्मिक संतोष की अनुभूति हो रही है।

जय श्री राम! pic.twitter.com/iaTb8laeNg

— Yogi Adityanath (@myogiadityanath) November 14, 2020
The CM also cherished the historical "Deepotsav' in Ayodhya on Friday and was enthralled to announce that over six lakh earthen lamps were lit there. He said the pollution-free Diwali in Ayodhya has also set an example before others.
The post Uttar Pradesh CM Yogi Adityanath celebrates Diwali with Vantangia people appeared first on NewsroomPost.
from NewsroomPost https://ift.tt/36BX7O7
https://ift.tt/35wW82B