Gandhinagar: Gujarat Chief Minister Vijay Rupani on Monday addressed students on the occasion of 1 st Convocation Ceremony of Gokul
Global University situated at Sidhpur. He expressed his commitment to build a skilled youth force in Gujarat through research from energy to
Ayurveda and best timely education. While Gujarat is the role model of the country's development and the best choice of investment, the government has made efforts to equip the youth of the state with the weapon of education and prepare the youth to compete with world.
It is necessary that students fulfill their responsibility towards the society as well as for the welfare of the poor and deprived. Gujarat has an ancient
heritage of excellent education. We have set up various new dimensions of education and sectoral university facilities in Gujarat. So now a student from Gujarat can get higher education in home state instead of going to other states for study, said the CM.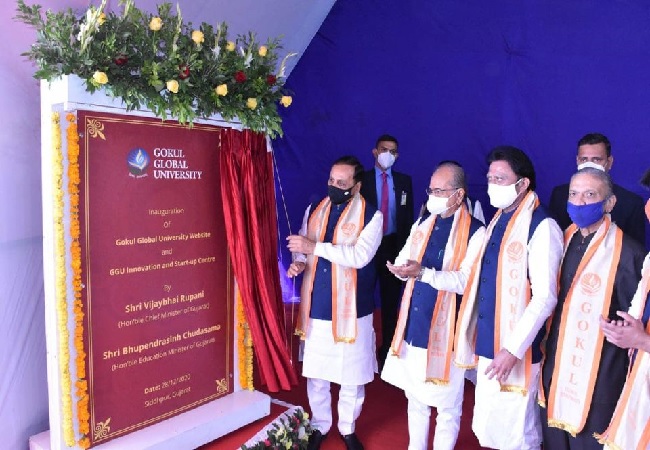 During the time of congress rule, there were only nine universities in Gujarat and the youths had limited opportunities for education. With the strong
planning of our government towards education, now 77 universities are functional today. CM expressed happiness that the youth of Gujarat and
across the country are getting higher education from various universities like Forensic, Science, Marine, Petroleum, Raksha Shakti, Railways, Tribal and becoming job givers.
The CM called upon the youth to realize our Prime Minister Mr. Narendra Modi's vision to make India Self-reliant. He congratulated the students who
received their degrees and encouraged the students to work with their best efforts. He also called for a medical college like the Gokul Global University
is functional in North Gujarat.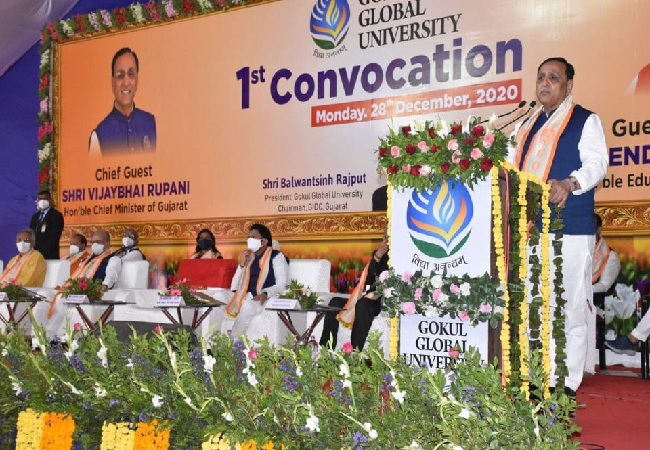 At one time, all the colleges in the entire state were providing education services only in Gujarat University. Today, only four universities in North
Gujarat, Hemchandracharya University, Ganpat University, Gokul University, Sankalchand Patel University and Agriculture University provide
education facilities.
This government is expanding the scope of education and encouraging to start universities to provide advanced education facilities to the youth of the
state.
The Chief Minister wished the young students a bright future. Congratulating the graduating students at the convocation ceremony, Education Minister Mr. Bhupendrasinh Chudasama said that the innovation center of Gokul Global University has been inaugurated today. Gokul Global
University is to compete with Gujarat, Saurashtra, MS, Nirma University.
There are many stages of life. Some students even face second tries. Mr. Chudasama said that our Prime Minister has a vision to make India a
self-reliant. Let us use the opportunity given to us by the start-up policy to contribute to nation building. Gujarat ranks first in the country as the best
performing state of start-up policy. He urged the students to make their careers brighter with the firm morale.
ગુજરાત વર્લ્ડ ક્લાસ સંસ્થાઓ ધરાવતું હોય IIM, IIT, AIIMS, National Forensic Sciences University, Gujarat Maritime University, Birsa Munda Tribal University, દરેક પ્રકારની Sectorial University ગુજરાતમાં ઉભી થાય,STUDY IN GUJARAT હેઠળ વિદેશના વિદ્યાર્થીઓ ગુજરાતમાં અભ્યાસ કરી રહ્યા છે pic.twitter.com/ZenbRiBFOO

— Vijay Rupani (@vijayrupanibjp) December 28, 2020
President of Gokul Global University and GIDC Chairman Mr. Balwantsinh Rajput said that, Years ago there was only one college in Siddhpur. The
students here had to go to another city to study but with the cooperation and guidance of the state government, this holy land of Siddhpur has become a center of education on Monday.
305 students from various faculties were handed over degrees at the first convocation of Gokul Global University. On the occasion MP Bharatsinh Dabhi, Member of Rajya Sabha Narhari Amin, MLA Smt. Ashaben Patel, State BJP General Secretary KC Patel, District BJP President Dasharathji Thakor, Trustee, Patan District Collector, District Development Officer, Chairman of ISKON Group, Chancellor, Registrar, University professors and invitees remained present.
The post Gujarat CM Vijay Rupani attends 1st Convocation of Gokul Global University of Sidhpur appeared first on NewsroomPost.
from NewsroomPost https://ift.tt/3aLOjcp
https://ift.tt/3aQ2hd6