New Delhi: Uttar Pradesh Yogi Adityanath said that the land on which a poor person had made his/her hut should be transferred in his/her name if the land was undisputed and not in any reserved category and, if required, houses could be built in clusters in some districts.
Speaking at a virtual programme held at his official residence here on Tuesday CM Yogi also said that a campaign should be launched to saturate all the beneficiaries of the Prime Minister Awas Yojana and Chief Minister Housing Scheme with the benefits of the government schemes like toilet, kitchen, electricity, Ayushman Bharat, and Jivan Jyoti schemes.
The CM issued these directions while transferring Rs 87 crore as the first instalment in the accounts of the 21,562 beneficiaries of the Chief Minister Housing Scheme (Rural).
CM Shri @myogiadityanath Ji Maharaj transfers ₹87 cr. to rural housing scheme beneficiaries pic.twitter.com/XS7iuTZQrL

— Yogi Adityanath Office (@myogioffice) December 31, 2020
"These beneficiaries should also be associated with self-employment programmes (goat, poultry, dairy, etc.) as per the requirement. They should also be given the necessary training and also be facilitated in getting bank loans and also be motivated for self-employment," he said.
Those present in the programme included Rural Development Minister Moti Singh and other senior officials.
The CM also said that the local administration should ensure that the beneficiaries used the money in building houses and the poor got the bricks, cement etc. at reasonable prices.
He said nodal officers should also be appointed for weekly review of the construction of houses.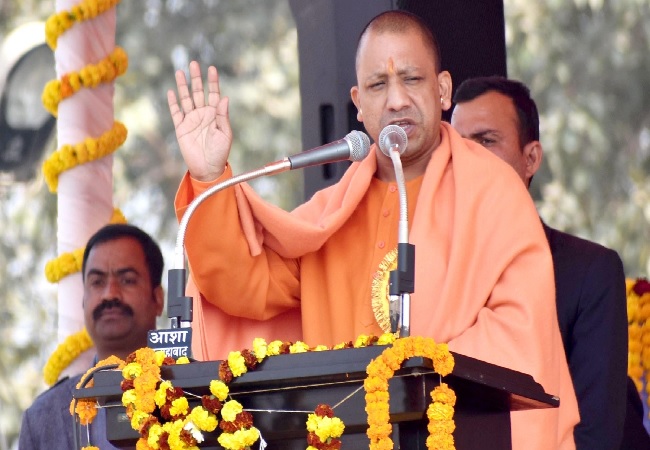 "The section of the people who are the beneficiaries of houses are also the most vulnerable to encephalitis, tuberculosis, kala azar and malnutrition-borne diseases. They should also be given a healthy cow from the cow shelters and Rs 900 per month for the maintenance of cows. The cow shed can also be constructed under the MGNREGA," he said.
Yogi interacted with some of the beneficiaries and told them to construct a toilet along with the house. He also enquired from them about the government schemes from which they were getting benefits and instructed the district administration to hold a campaign and extend the benefits of the schemes to those who were eligible.
The CM interacted with Prema (Ayodhya), Soni (Azamgarh), Sangeeta (Kushinagar), Asha (Jaunpur), Akshay Bar (Gorakhpur), Anshu (Rae Bareli), Meera (Sonbhadra) and others.
The post UP CM Yogi transfers Rs 87 cr to 21,562 beneficiaries of CM rural housing scheme appeared first on NewsroomPost.
from NewsroomPost https://ift.tt/3nagLY5
https://ift.tt/3hsGBFo