Union Budget 2021-LIVE UPDATES: Normally, discussion on General Budget is taken up first in Lok Sabha. But in 1955, 1959, 1963, 1965 and 2002, discussion on Budget commenced first in Rajya Sabha. It's likely that discussion on Budget starts first in Rajya Sabha for only the sixth time today.
The discussion on General Budget is listed after consideration of Major Ports Bill in Rajya Sabha, today. In Lok Sabha, it is listed after the ongoing discussion on Motion of Thanks on the President's address.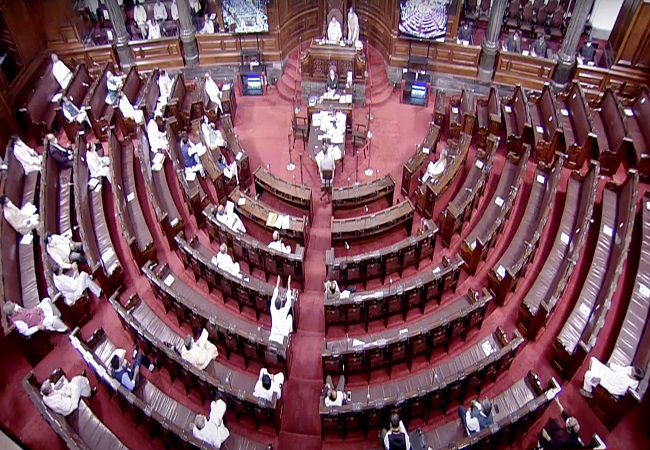 Union Budget 2021-LIVE UPDATES
# On one hand, some of the carriers want us to open 100% while others would like us to take it slow. Our decision to raise it beyond 80% will depend on the behaviour of the virus: Union Civil Aviation Minister answers an MP's question 'Why are flights not operating up to 80%?'
#Congress leader Rahul Gandhi will lead the Congress attack during debate on the union budget and will be the first speaker from his party in the discussion likely to be taken up by Lok Sabha on Wednesday.
The discussion on union budget 2021-22 is slated to be taken up after reply to the motion of thanks on the President's Address by Prime Minister Narendra Modi. The Wayanad MP has been critical of the Union Budget presented by the Finance Minister Nirmala Sitharaman on February 1 and said that the budget proposals will adversely impact the common man.
# Bharatiya Janata Party MP Vijay Pal Singh Tomar has given Zero Hour Notice in Rajya Sabha over demand for a separate bench of Allahabad High Court in Western Uttar Pradesh
# BJP MP Anil Baluni has given Zero Hour Notice in Rajya Sabha over the need for a mechanism to study glaciers to manage and prevent disasters such as the recent glacier burst in Chamoli, Uttrakhand.
The post Budget 2021 LIVE UPDATES: Rahul Gandhi to lead Congress attack on union budget in LS appeared first on NewsroomPost.
from NewsroomPost https://ift.tt/371Kkpc
https://ift.tt/33UPoL3