India today offers a unique opportunity in defence and aerospace manufacturing, says Rajnath Singh | TOP POINTS
New Delhi: Defence Minister Rajnath Singh on Wednesday attended the inaugural ceremony of Aero India show in Bengaluru.
The 13th edition of the Aero India international air show, organised by the Defence Research and Development Organisation (DRDO) will kickstart today at Air Force Station Yelahanka, Bengaluru.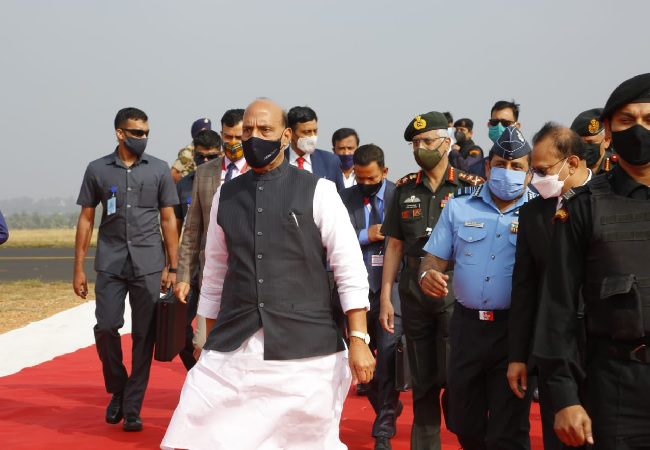 Here is what he said:
I am happy to inform, that the reforms aimed at bringing ease in doing business, have shown good results. India has recorded a jump of 14 positions against its rank of 77 in 2019 to be placed now at 63rd rank among 190 countries assessed by the World Bank: RM
Over the years, the Government of India has facilitated establishment of wide-ranging production facilities, of various defence equipment through Defence Public Sector Undertakings and Ordnance Factories: RM
Newly introduced (Buy Global – Manufacture in India) category of capital procurement in DAP 2020 allows outright purchase of equipment frm foreign vendors, followed by indigenous manufacture through its subsidiary in India or through a Joint Venture or through an Indian Agency:RM
he Government of India has enhanced FDI in Defence Sector up to 74% through the Automatic Route and 100% through the Government route, which would act as a catalyst for foreign players to invest in India:
We have taken many steps to strengthen our security apparatus recently. Domestic manufacturing of bigger and complex defence platforms has now become the focus of our policy under the "Atmanirbhar Bharat Abhiyan". We plan to spend 130 Billion Dollar on military modernization: RM
India today offers a unique opportunity in defence and aerospace manufacturing. This opportunity comes as a "Sangam" of rising demand, greater innovation, conducive policies and maturing ecosystem in defence and aerospace manufacturing sector: RM
I have been informed that about 540 exhibitors including 80 foreign companies, Defence Ministers, Delegates, Service chiefs and officials from more than 55 nations are participating in the event. It reflects the growing optimism of the global community: RM
In order to maximize the reach and participation, the event is being conducted in a hybrid format with a concurrent Virtual Exhibition which will integrate the Seminars, B2B interactions etc. It will be not incorrect to say, that Aero India 21 has truly gone digital and global:RM
The Aero India 21 will display the vast potential of India, and the multifarious opportunities that our country offers in the field of defence and aerospace sector. It also promises to be the World's First Ever Hybrid Aero & Defence exhibition: Raksha Mantri
Despite the constraints caused by the global pandemic, I am pleased to see such a large number of participants in this year's event. It is coming from the world's leading nations in the field of military and aviation: RM
India has endeavoured to bring out, not one but two indigenous vaccines and started the largest vaccine drive to inoculate 270 million people. Our concern extends to people across boundaries, under which India offers more than 20 million doses to friendly countries: RM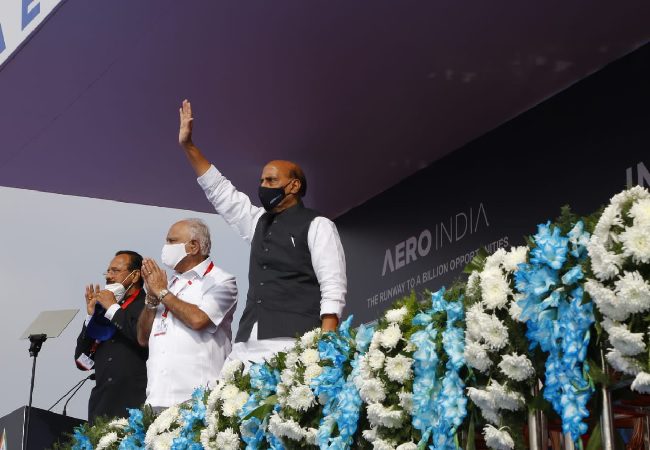 The year 2020 has been a challenging year for the entire world, and has adversely impacted the lives, livelihood, industrial growth, and economy of many countries: RM
In the universe of aviation, this show is one of the brightest galaxies, that is accompanied by a wide variety of options, solutions, partnerships and most importantly opportunities: RM
The existing supply chains, developed by aerospace and engineering firms, an investor friendly government, with simplified procedures & fast-track business approvals through single window mechanism, combine to make Karnataka a very attractive destination for the industry: RM
A hearty welcome to you all to Aero India 2021. I am delighted to see the Defence Ministers, senior defence officials and business leaders from around the world in this 13th edition of Aero India, the largest Aero show in Asia: Raksha Mantri
The #AeroIndia2021 begins in Bengaluru. Watch! https://t.co/GtzmvFJfaq

— Rajnath Singh (@rajnathsingh) February 3, 2021
The post India today offers a unique opportunity in defence and aerospace manufacturing, says Rajnath Singh | TOP POINTS appeared first on NewsroomPost.
from NewsroomPost https://ift.tt/2MxDsZH
https://ift.tt/3azCaWm