New Delhi: Non-bailable warrants has been issued against Nikita Jacob and Shantanu. The two are involved in the toolkit matter, said Delhi Police on Monday.
A case was also registered against Bombay High Court lawyer Nikita Jacob for taking part in anti-india campaigns by Delhi Police. Legal Rights Observatory filed a complaint against Nikita and sought FIR under charges of sedition.
LRO said in a Tweet that it has lodged a complaint with Delhi Police against Nikita for arranging campaigns by foreign celebrities to run a campaign against farm laws duly passed by Indian Parliament. If also stressed that it wants a sedition case against her.
Nikita's involvement in anti-India campaign came to limelight when Greta Thunberg accidentally tweeted about a "Toolkit" that interested people could use for supporting her cause. Greta had tweeted in support of farmers protests after pop star Rihanna and porn star Mia Khalifa.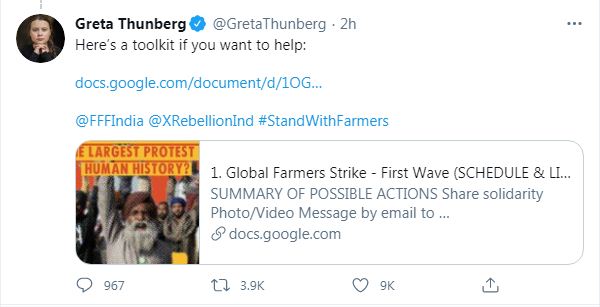 Meanwhile, Nikita deleted her Twitter account after Greta's folly in unveiling a document.
As per her deleted Twitter profile, she is a Bombay High Court lawyer, environmentalist and associated with Aam Aadmi Party (AAP). She was owner of the document named "Solidarity with Indian Farmers" created on January 30, 2020, according to one Twitter user named Vijay Patel. She was also running a propaganda account on Instagram by the name News Infuse.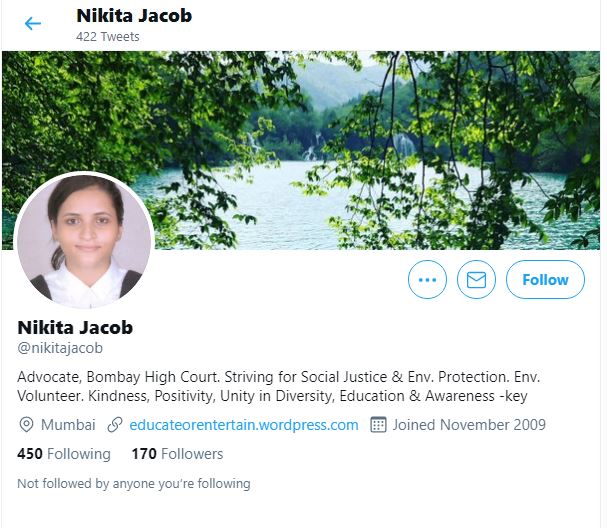 Also, Disha Ravi, a 21-year-old climate activist who was arrested yesterday from Bengaluru is the editor of 'Toolkit' document related to the farmers' protest and a key conspirator in the document's formulation and dissemination, confirmed the Cyber Crime Cell of Delhi Police on Sunday.
"Disha Ravi is an editor of the Toolkit Google Doc and a key conspirator in document's formulation and dissemination. She started WhatsApp group and collaborated to make the Toolkit doc. She worked closely with them to draft the Doc," tweeted Delhi Police.
21-year-old climate activist Disha Ravi sent to 5days @DelhiPolice Special Cell custody

She was picked up from her house in Bengaluru in connection with the case regarding 'toolkit', shared by @GretaThunberg in connection with the farmers' protest. #FarmersProstests #ToolKit pic.twitter.com/UXrf4QG3OA

— Newsroom Post (@NewsroomPostCom) February 14, 2021
According to CyPAD Delhi Police, the editors of the toolkit collaborated with the pro-Khalistani Poetic Justice Foundation to spread disaffection against the Indian State. Ravi was the one who shared the Toolkit Doc with Swedish climate activist Greta Thunberg.
The post Toolkit matter: Non-bailable warrants issued against Nikita Jacob and Shantanu appeared first on NewsroomPost.
from NewsroomPost https://ift.tt/3algH4j
https://ift.tt/2YFHaTA