New Delhi: There is no official date for the relaunch of PUBG Mobile yet. However, one thing is crystal clear that PUBG Corporation has not given up their hopes. The Corporation is facing difficulties in getting approval from the authorities for launching the game in India again. This didn't put an end to PUBG Corporation from establishing a new company in India and hiring a workforce from the country.
Recently, PUBG Corp. is actively recruiting for Strategy Analyst and Investment, and has also posted jobs on LinkedIn. The job involves the applicant to "support the process and global deal flow evaluation with respect to India and MENA regions and assist global teams with the same."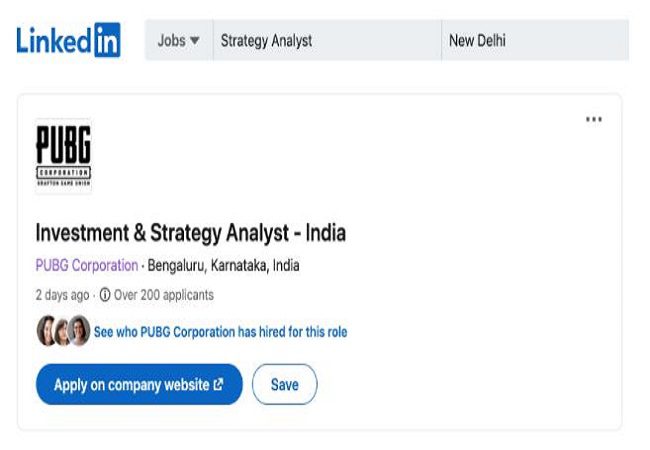 Earlier, the company announced that they would be launching a new mobile game called PUBG Mobile India. The game will be customized for Indian games and will have few changes. PUBG Mobile India will be set in a virtual training ground simulation, green damage effects, newly-build characters with clothes and there will be a time limit for the playtime.
PUBG Corporation's aim is to expand their footmark in India and provide jobs with core responsibility of "evaluation and analysis of M&A/Investment opportunities, including conducting gaming/entertainment/tech industry research and analysis, support in key corporate strategic planning processes, process and global deal flow evaluation with respect to India and MENA regions."
The applicant should have "three years of experience in IB/consulting/PE/VC with deep on interactive entertainment, gaming and IT sector or M&E sector as an Analyst." The candidate should have a qualification of "MBA/CFA/CPA or reputable university degree in finance, economics, business or computer science."
PUBG India Private Limited has been approved to be a legit company by the Ministry of Corporate Affairs. With a valid Corporate Identity Number (CIN) the company is listed on the ministry's website. They have a registered office in Bengaluru.
The post PUBG Mobile: Relaunch of the battle royale in India soon? appeared first on NewsroomPost.
from NewsroomPost https://ift.tt/2PcyO4m
https://ift.tt/3f15oAY