New Delhi: The newly appointed CM of Uttarakhand Tirath Singh Rawat recently invited the anger of young women by commenting on their fashion sense. CM Rawat was addressing a workshop organised by the State Commission for Protection of Child Rights when he started talking about a woman he once met on a flight.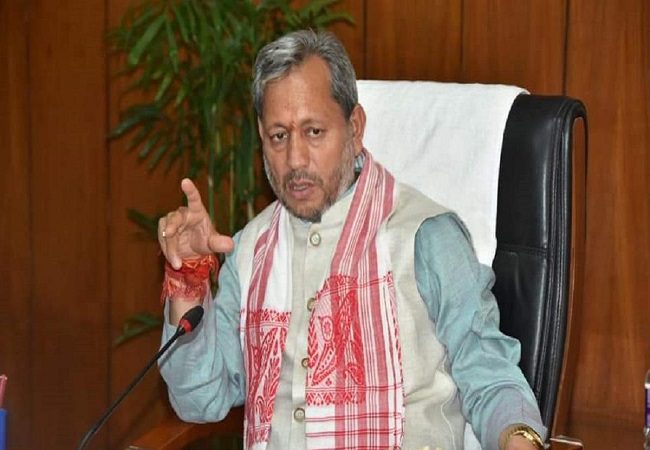 While talking about her attire he said, "Jab unki taraf dekha to neeche gumboot they, jab aur upar dekha to ghutne fatey they, haath dekhe to kai kade they… Bachhey do saath me unke they. Maine kaha behan ji kahan jana hai… Delhi jana hai, husband kahan hai… JNU me professor hain, tum kya karti ho… main ek NGO chalati hun. NGO chalati hain, ghutne fatey dikhte hain, samaj ke beech me jaati ho, bachhey saath me hain, kya sanskar dogi? (She was wearing boots, jeans ripped on the knees, and several bracelets. She had two children travelling with her. Her husband is a professor in JNU. You run an NGO, wear jeans ripped at the knees, move about in society, children are with you, what values you will teach?)."
CM Rawat further said, "Main kahan le ja raha hun apne bachhey ko fati jeans pehna karke. Bade baap ka beta hun. Bade baap…betiyan bhi peeche nahi hai. Who bhi ghutne dikha rahi hain. Yeh achha hai kya? (Where I am taking my children in tattered jeans… even girls are no less, showing their knees. Is this good?)."
These comments have welcomed criticism from all the women, Congress spokesperson Garima Dasauni termed CM's comments as indecent. She said, "Being a Chief Minister does not gives authority to comment upon personal attire of somebody. Such remarks should be avoided. Why do BJP leaders get tight-lipped when their leaders face allegations of sexual harassment of women?"
Twitter Replies
These comments have made women angry as CM Rawat says that women are sending a bad message to the society by wearing ripped jeans.
See the reactions:
#RippedJeansTwitter
For sanghis

This is shameful This is pride pic.twitter.com/GAxsusyDsP

— Rhea Chakraborty (Parody) (@Tweet2_Rhea) March 17, 2021
Ripped Jeans aur Kitab.
The country's 'sanskriti' & 'sanskaar' are impacted by men who sit and judge women and their choices. Soch badlo Mukhyamantri Rawat ji, tabhi desh badlega. #RippedJeansTwitter pic.twitter.com/qYXcN88fY6

— Priyanka Chaturvedi (@priyankac19) March 18, 2021
#RippedJeansTwitter
Heya!! What do you think a message I am giving to society?
Lemme tell you:
Mind your own business! pic.twitter.com/pWmbWFN7pQ

— Greeshma Shukla (@GreeshmaShukla) March 17, 2021
I am a mom and I wear ripped jeans.#rippedjeans #RippedJeansTwitter pic.twitter.com/y62imtEVRx

— Tina BK (@tina_bkaran) March 17, 2021
#RippedJeansTwitter
Ripped Jeans Ripped Genes pic.twitter.com/DD2qS6ivNL

— Kamesh Shivhare INC (@KameshShivhare3) March 17, 2021
The post #RippedJeansTwitter TRENDS after U'Khand CM Tirath Singh Rawat's ripped jeans comment appeared first on NewsroomPost.
from NewsroomPost https://ift.tt/3cIxm1F
https://ift.tt/3vEFaKL