New Delhi: Prime Minister Narendra Modi with his back-to-back rallies in 4 states has set a new pace in this election season. From West Bengal to Kerala, PM Modi has covered it all. Boosting the election season PM Modi has done 10 rallies covering 4 states in just 3 days and that too after a whirlwind 2 day hectic Bangladesh tour.
These rallies have covered a distance of over 5000km in four poll-bound states of West Bengal, Tamil Nadu, Assam, and Kerala. BJP functionaries say the huge turnout in Modi's rallies has given a boost to the party and galvanised its cadres, which promoted the party strategists to increase his rallies in all these states.
PM Modi has done 23 rallies so in this election campaign.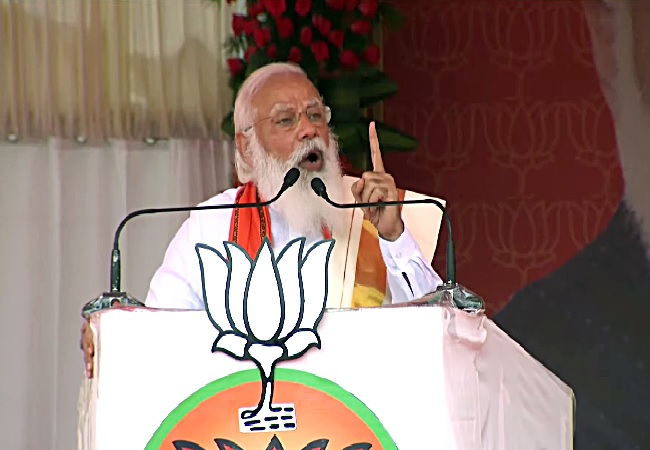 Day one:
Kokrajhar, Jaynagar, Uluberia followed by darshan at Meenakshi temple in Madurai
PM Modi slammed Congress and said that the ongoing Assam Assembly election is a "battle" between the Congress-AIUDF grand alliance's 'maha jhooth' (great lies) and National Democratic Alliance's (NDA) maha vikas (great development).
Then he arrived in poll-bound Tamil Nadu and visited the centuries-old Arulmigu Meenakshi Sundareshwarar Temple in Madurai.
For his visit to the temple, the Prime Minister opted to wear traditional attire – 'veshti' which he paired with a white shirt and angvastram. A grand welcome was given to him by people who lined the streets along with traditional drum players.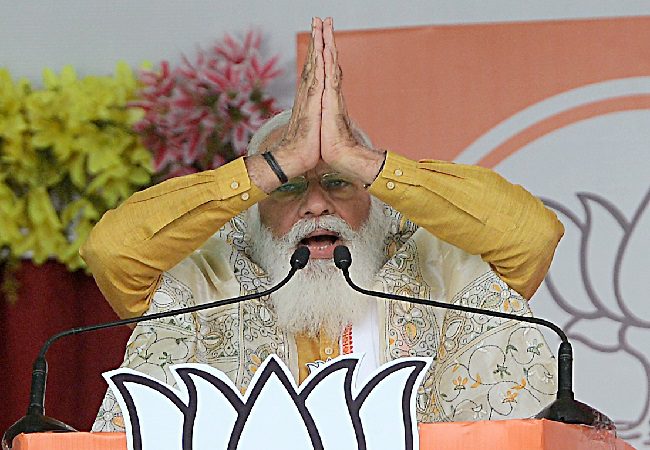 Day two:
Madurai, Kanyakumari, Patanamthitta, Thiruvananthapuram
He slammed Dravida Munnetra Kazhagam (DMK) and Congress for posing as protectors of Tamil culture and pointed out that the UPA-led Central government had banned Jallikattu, a practice which has been part of state's culture for centuries. The Prime Minister added that the NDA government cleared an ordinance brought by AIADMK which allowed Jallikattu to continue.
"DMK and Congress have no real agenda to talk about but they should control their lies because people are not foolish. They keep showing themselves as the only protectors of Tamil Culture, but the facts suggest something else," PM Modi said.
Addressing a public rally in Kerala's Thiruvananthapuram, he continued his attacks on the Left Democratic Front-led Kerala government, Prime Minister Narendra Modi on Friday said that there is no development in the state and the governance in the state is on 'hartal' (strike).
The Prime Minister said, "Under LDF, there is a total 'hartal' on governance in Kerala. The people here are talented and hardworking, but the LDF government has failed to show any forward-looking vision to solve their problems."
Day three:
PM Modi is scheduled to address rallies at Tamulpur, Tarkeshwar and Sonarpur.
The post 3 days, 4 states, 10 rallies: PM Modi sets new pace in this election season appeared first on NewsroomPost.
from NewsroomPost https://ift.tt/31Jb2jG
https://ift.tt/2PTGbhm