Bengal Violence: Kangana Ranaut says Mamata Banerjee 'not Ravana', she's 'blood thirsty demon Tadka'
New Delhi: Bollywood actor Kangana Ranaut who is quite active on social media, on Monday made a series of Tweet in which she called West Bengal Mamata Banerjee as 'blood thirsty demon Tadka.'
"I was wrong she is not Ravana he was the best king built richest country in the world great administrator,scholar and Veena player absolutely competent n kind to his subject,she's blood thirsty demon Tadka, who all voted for her the blood is on your hands as well #BengalViolence."

She was criticizing Mamata Banerjee for the violence that took place in the state following the announcement of Assembly results on Sunday.
This is what happens when demons get power … Adharma wins over Dharma #PresidentRuleInBengal https://t.co/xqcxWBR4QP

— Kangana Ranaut (@KanganaTeam) May 3, 2021
She not only demanded President's rule in Bengal but she went on to compare Mamata to an unleashed monster.
Kangana asked PM Modi to show his Virat Roop from early 2000's.
"This is horrible… we need super gundai to kill gundai… she is like an unleashed monster, to tame her Modi ji please show your Virat roop from early 2000's …. #PresidentRuleInBengal."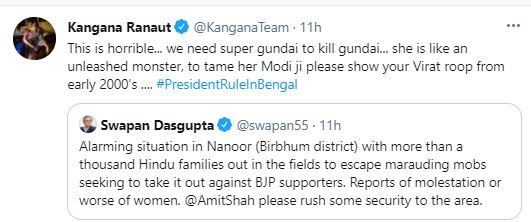 She said that no violence was reported from Assam and Puducherry where BJP won, but 'hundreds of murders and
#Bengalisburning' after TMC won in Bengal.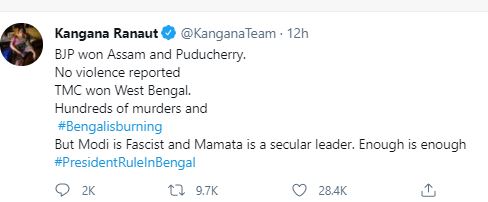 "Please note Indira Gandhi jailed killed tortured many took all the powers from people and media to herself for almost three years, bajaoed them left right centre and then guess what she came back with thumping majority….
I guess everyone likes a good F@@**k isn't it Slightly smiling face."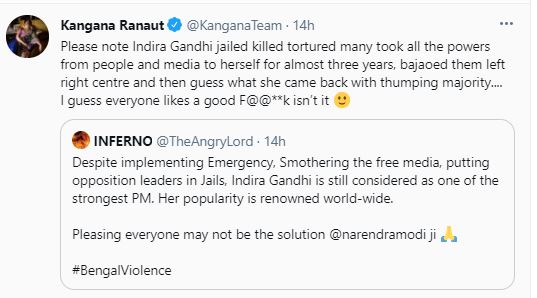 Mamata Banerjee-led Trinamool Congress won 213 seats in the just concluded West Bengal assembly elections. The BJP garnered 77 seats in the 294-seat state assembly.
The post Bengal Violence: Kangana Ranaut says Mamata Banerjee 'not Ravana', she's 'blood thirsty demon Tadka' appeared first on NewsroomPost.