New Delhi: Google has issued an apology after a search result showed Kannada to be India's "ugliest language". Karnataka Minister Arvind Limbawali said that the concerned department had been instructed to give notice to Google.
Karnataka Minister for Kannada, Culture and Forest, Aravind Limbavali told reporters that a legal notice would be served to Google for showing such an answer to that question.
Later, he took to Twitter to express his outrage and demanded an apology from Google to Kannada and Kannadigas.
Showing Kannada in poor light "…is merely an attempt by Google to insult this pride of Kannadigas. I demand an apology from @Google ASAP to Kannada, Kannadigas. Legal action will be taken against Google for maligning the image of our beautiful language!" Limbavali tweeted.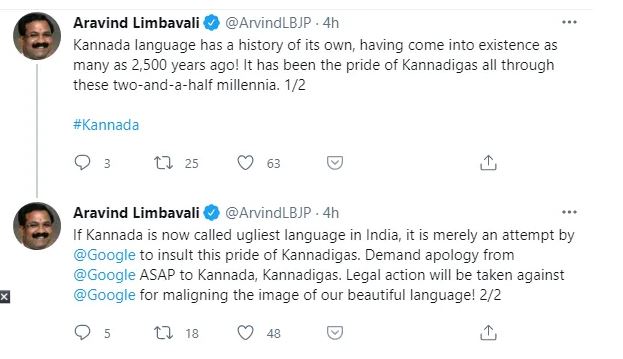 Former chief minister HD Kumaraswamy asked Google why it was insensitive towards languages. "Is it impossible for Google to curb such hatred against any language?" he asked in a tweet.
Kumaraswamy added that removing the webpage from search results wouldn't give relief to the hurt suffered by Kannadigas. He added, "The mistake of Google is not acceptable."
ಕನ್ನಡಿಗರ ಸ್ವಾಭಿಮಾನದ ಅಲೆಗೆ @GoogleIndia @Google ಮಣಿದಿದೆ. ಕನ್ನಡಿಗರ ಕ್ಷಮೆ ಕೋರಿದೆ. ಕನ್ನಡಿಗರು ಸಹಿಷ್ಣುಗಳು. ಆದರೆ ಅದನ್ನು ನಮ್ಮವರ ಭಾಷಾ ನಿರಭಿಮಾನ ಎಂದು ಭಾವಿಸಿಕೊಳ್ಳಬೇಕಾಗಿಲ್ಲ‌. ಸಿಡಿದು ನಿಲ್ಲುವುದು, ತಪ್ಪಿನ ವಿರುದ್ಧ ಪ್ರತಿರೋಧ ತೋರುವುದು ಕನ್ನಡಿಗರ ಚಾರಿತ್ರಿಕ ಗುಣ. ಕನ್ನಡಿಗರ ಒಗ್ಗಟ್ಟಿನಲ್ಲಿ ಅಗಾಧ ಶಕ್ತಿಯೂ ಇದೆ. pic.twitter.com/NMfGw1MpTE

— H D Kumaraswamy (@hd_kumaraswamy) June 3, 2021
A Google spokesperson said, "search isn't always perfect. Sometimes, the way content is described on the internet can yield surprising results to specific queries."
"We know this is not ideal, but we take swift corrective action when we are made aware of an issue and are continually working to improve our algorithms. Naturally, these are not reflective of the opinions of Google, and we apologise for the misunderstanding and hurting any sentiments."
The post Kannada India's 'ugliest language' row: Google issues apology after outrage appeared first on NewsroomPost.