New Delhi: Vidya Balan's film 'Sherni' released today. Vidya Balan plays a mid-level forest officer who despite obstacles and pressures, works with her team and local allies to preserve a balance in the environment.
The film deals with a sensitive topic that touches upon respect, mutual understanding, and co-existence, not just between man-animal, but between humans as well. It gives me immense joy to bring this unique character and story to the global audience through Amazon Prime Video and hope to engage them in unexpected ways.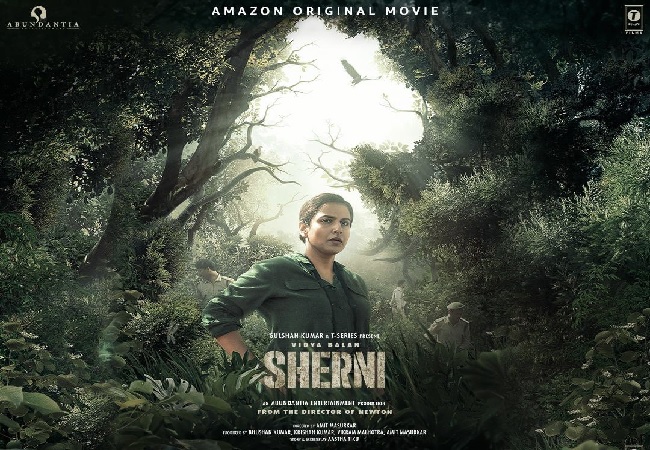 Here is how Twitterati reacted to Sherni:
#Sherni is here to roar. @vidya_balan is Outstanding . What a fantastic movie. I have never seen such a subject on celluloid before. So realistic yet so emotional. Outstanding camera works with supreme acting. Thanks Amit Masurkar for this Gem. #SherniOnPrime

Rating : pic.twitter.com/R5OFIsuX4y

— Vishwajit Patil (@1Vishwajitrao) June 18, 2021
Exclusive – #Sherni is just the kind of movie that the promo promised. Realistic, thought provoking, engaging, it picks man v/s animal debate where #AmitMasurkar presents it as a story which makes you wonder who's invading whose space. The forest is captured so well 1/2 pic.twitter.com/DA8HtZ4X06

— #TutejaTalks (@Tutejajoginder) June 18, 2021
#Sherni @PrimeVideoIN Topical subject on man-animal conflict & politics involved. @vidya_balan fab as a Malayalee woman forest officer,the real tigress on prowl battling patriarchy & corruption. Stunning #MP forest locales, a worthy successor to Dir #AmitMasurkar earlier #Newton pic.twitter.com/7Ly2Ulm361

— Sreedhar Pillai (@sri50) June 18, 2021
This weekend is going to be EPIC!#Sherni & #JagamaeThandhiram #VidyaBalan & #Dhanush both in their respective industries consciously trying to experiment with their characters and storylines!

EXCITED pic.twitter.com/EipAsRRwiw

— ANMOL JAMWAL (@jammypants4) June 17, 2021
Formidable Tiger vs human conflict tale brilliantly directed by Amit Musurkar,he weaves the complex narrative with utmost detailing & finesse.Screenplay is engrossing & has a apt blend of politics & humorous satire.
Realistic cinema at its best. #SherniReview pic.twitter.com/skmMjujrRv

— Sumit Kadel (@SumitkadeI) June 18, 2021
Directed by Amit Masurkar of 'Newton' fame, the film will premiere on Amazon Prime Video. With Vidya in the lead, 'Sherni' is a fictional story that takes us on the journey of a forest officer who strives for balance in a world of man-animal conflict.
Produced by Bhushan Kumar, Krishan Kumar, Vikram Malhotra and Amit Masukar, the film will exclusively release on Amazon Prime Video on June 18, across the globe in 240 plus countries.
The post Sherni Released: Twitterati praise Vidya Balan as she plays a mid-level forest office appeared first on NewsroomPost.