New Delhi: Microblogging site Twitter on Monday removed the distorted map of India, which depicted Jammu and Kashmir and Ladakh as not part of the country after facing severe backlash.
The map, which appeared on the Twitter website's Career page under the heading 'Tweep Life' section was removed from the webpage late today. The incorrect map attracted heavy criticism from netizens and demands of action against the microblogging site.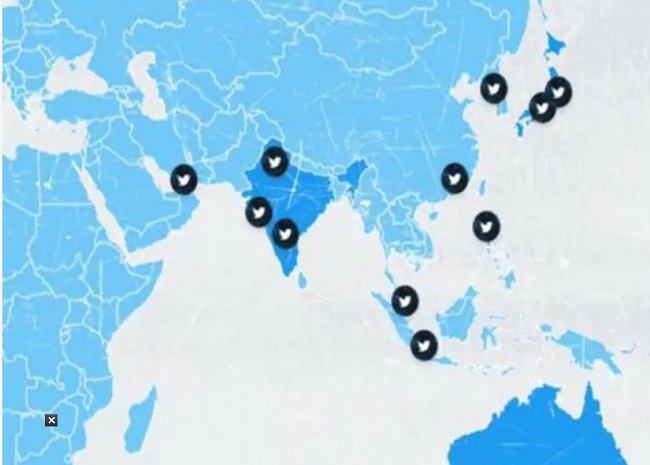 Here is how Twitterati is expressing their anger:
Me to #Twitter every time it shows Kashmir And Leh outside India's Map#TwitterBan pic.twitter.com/aAXM7AtPc6

— Scarcastic memer (@scarcasticmemer) June 29, 2021
#TwitterBan This is original Map of india. Jai hind pic.twitter.com/LjTaD7YWtp

— Madhurja Boro (@madhurja_boro) June 28, 2021
#TwitterBan
Imagine an indian IT company like tcs, Infosys telling the US govt that they won't comply to the US laws while operating in America….they will be bombarded with the lawsuits#BanTWITTER #TwitterBan
Use koo app pic.twitter.com/VQd8nE1gY8

— Anti-Hÿpôčřîťę (@ChahiyeKisko) June 28, 2021
Twitter consistently taking action against India.
— J&K LG Twitter account suspended.
–VP Blue tick removed
–Ravishankar Prasad's account blocked
–Now Changed the Indian Map
If still no action taken against Twitter, then it's government fault.#TwitterBan pic.twitter.com/RgJofOx7Ve

— Aryan Raj (@Aryan5312L) June 28, 2021
#TwitterBan
This is real map of India you are not so much bigger than the people of india pic.twitter.com/daIpTtW9y4

— Bhanu Prakash Sharma (@BhanuPr81591508) June 28, 2021
#Twitterban
Twitter showing j&k,ladakh are not a part of India. 2nd map is the real one. pic.twitter.com/CpPtWNwYUM

— Subhrajyoti Sahoo (@Subhraj41105887) June 28, 2021
People again Trending #TwitterBan on Twitter
Le Twitter: pic.twitter.com/CHuVvvNmwa

— Memelovede (@memelovede) June 28, 2021
Twitter website shows Jammu Kashmir and ladakh as separate country. Second time twitter has show wrong India map #TwitterBan #TwitterBan pic.twitter.com/MYqLFGDSyq

— (रास्ट्रवादी) #Sonu Sharma (@SonuSha71918534) June 28, 2021
Previously, in October 2020, Twitter had labelled the Indian territory of Leh in Ladakh as part of the People's Republic of China (PRC).
The government of India had then issued a warning to CEO Jack Dorsey over the misrepresentation of the Indian map. Giving notice to Twitter, Secretary IT had said that such attempts not only bring disrepute to Twitter but also raise questions about its neutrality and fairness as an intermediary.
The post #TwitterBan trends: Twitterati says 'Enough is Enough' for showing distorted map of India appeared first on NewsroomPost.